As part of Inspired Edibles' ongoing Healthy Lunch Series, I'm excited to share this seasonal zucchini and quinoa bake that you can serve up warm and comforting from the oven or cool and refreshing from the fridge.
Many of us are experiencing mercurial weather this summer — cold and rainy one day, uncomfortably humid the next.  This simple, nutritious meal will accommodate either end of the spectrum nicely.
Made ahead, these cooled squares pack up beautifully into lunch boxes and picnic baskets and you can easily vary the contents and flavor accents with different fruit, vegetables, herbs and spices as desired (see suggestions in the Cooking & Nutrition Notes section below).
I hope you have fun with it and enjoy adding the recipe to your lunch repertoire!
Healthy Lunch Series: Quinoa Zucchini Bake
Quinoa Zucchini Bake ~ served warm or cold (Gluten Free, Vegetarian)
2 cups (500 mL) cooked quinoa

2 cups (500 mL) packed and drained shredded zucchini (I used a combination of yellow and green zucchini)

3 green onions (scallions), sliced thin

1/2 cup (125 mL) mushroom pieces

1/3 cup (80 mL) shredded Parmesan

1 Tbsp (15 mL)  lemon zest

2 heaping Tbsp (30 mL) fresh dill

Sea salt & coarse pepper seasoning

1/2 cup (125 mL) plain Greek yogurt

2 Tbsp (30 mL) olive oil 

4 eggs

Makes 12 Squares

Cooking & Nutrition Notes:
Variety is the spice of life and in this case, there are many gorgeous combinations you can play around with.  I worked with mushroom, Parmesan, lemon and fresh dill but consider some of these variations: chopped apple and nutmeg; tomato and fresh basil; garlic, walnut and parsley; crunchy anise and tarragon; chopped pear and sage; blueberry and mint; cheddar, corn and chili pepper. 

Dubbed the "mother grain" by the Incas, quinoa's nutrient profile has earned it star status. Rich in plant protein, quinoa contains all nine essential amino acids making it an important staple for vegetarian/vegan diets. It also contains B vitamins and a number of minerals including, notably: magnesium (a natural muscle relaxant), manganese, phosphorus, copper and iron. Quinoa's low glycemic index also makes it a good choice for blood glucose control in diabetics (and those wishing to prevent the onset of type 2 diabetes).

If you are making this recipe for youngsters, you can cut the quinoa zucchini bake into fun and interesting shapes — squares, circles, long stick shapes, triangles, any cookie cutter shape you have on hand etc.  You can also provide dipping sauces – tzatziki would work beautifully here – but any bean dip as well.  (Or, as one of my sons might advise, hot buffalo wing sauce!)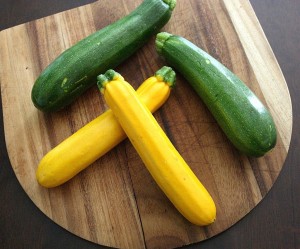 Directions:

Heat oven to 350 F.  
Cook quinoa according to package directions (generally 1:2 ratio quinoa to water) and allow it to cool somewhat.  

Quinoa increases about 4 times in volume when cooked. A 1/2 cup of dry quinoa should generate about 2 cups of cooked quinoa. Use 1 cup of dry to be safe and store any leftovers in a sealed container in the fridge.

Meanwhile, place shredded zucchini in a colander set over a bowl or sink.  Press down on the zucchini to squeeze out excess moisture.

Place cooked quinoa, shredded and drained zucchini, green onions, mushrooms, Parmesan, lemon zest, dill, salt & pepper in a large bowl and mix to combine.

In a separate smaller bowl, whisk together yogurt, olive oil and eggs.  

Add wet ingredients to dry mixing only until combined.

Line a baking pan (roughly 6 1/2 x 10) with parchment paper such that the paper hangs over the sides of the pan. Pour quinoa zucchini batter into the pan.  Add a final sprinkling of cheese and mushrooms to the surface.

Place pan in oven and bake for approximately 35 minutes or until set (slightly golden and just firm to touch).

Remove pan from oven allow it to cool.  Elevate the quinoa zucchini bake slab from the pan by pulling up on parchment (if you can) or with the help of a large spatula and slice slab into squares or desired shape.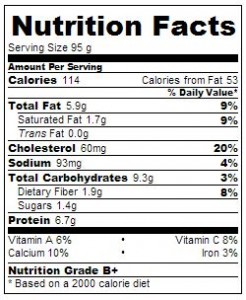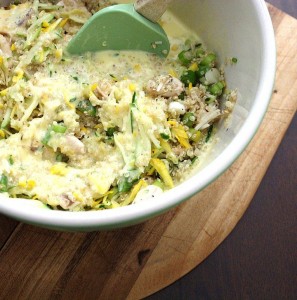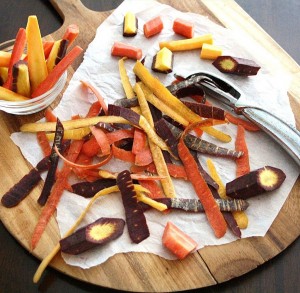 I must have eaten a pound of heirloom carrots with malt & salt
while making this recipe…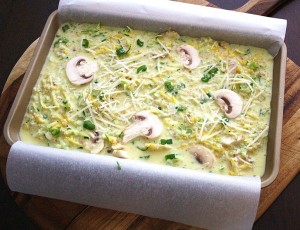 Ready for the oven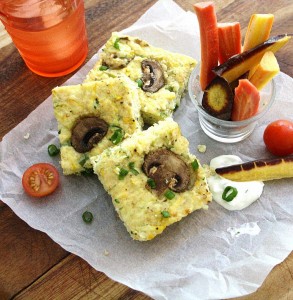 so simple and packed with goodness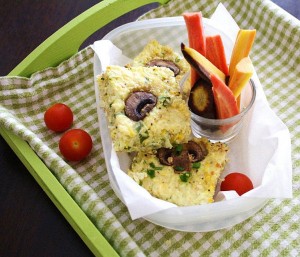 perfect picnic food